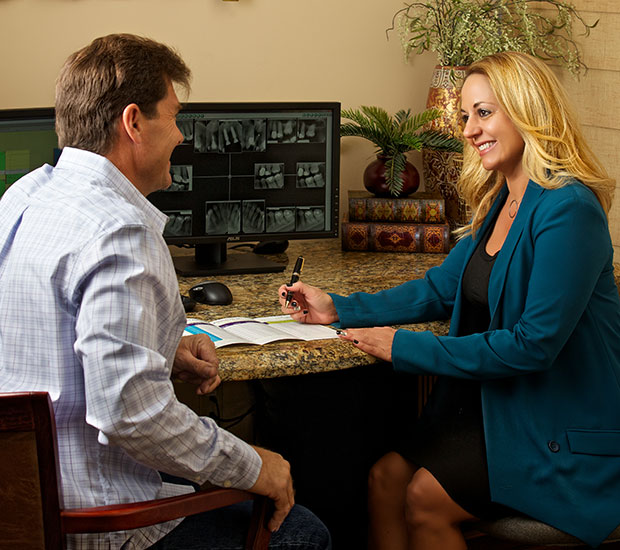 Financial Policy
Vista, CA
The highest quality dental treatment at an affordable price is what we have to offer. Health care decisions are between you and your doctor and we will work together to find a solution that is right for your health and your budget. Our fees are determined by our skills, experience and expenses, not by what a third party may feel comfortable paying. Payment at the time of service is expected and we accept cash, check, HSA/Flex Plans, and most major credit cards. We also have flexible financing options available.
Treatment Estimates
We strive to give you an accurate estimate of the total investment for your recommended dental treatment. Occasionally, additional treatment may be recommended based on a change in your dental condition or on other unforeseen factors. If additional treatment is necessary we will inform you at the time it becomes apparent so that you can make an appropriate decision. Payment for additional services rendered will be due at the time of treatment.
Preferred Provider Organization (PPO) Dental Insurance
If all of your insurance information has been received on the day of your appointment, as a courtesy to you we will be happy to file claims for you at no additional charge. We accept dental benefit plans where you can choose your own dentist. These types of benefit plans are commonly referred to as a Preferred Provider Organization (PPO) dental plans. Our commitment is to your dental health and we are happy to help you maximize your benefits. We provide dental treatment based upon you and your family's specific needs and are not contractually limited by insurance companies.
Your dental benefit plan may be a form of compensation provided by your employer. You can expect your insurance company to reimburse you for a portion of our fee. That portion is determined by the contract between your employer and the insurance company. The higher the premium paid by your employer, the more generous the reimbursement. If your plan has not made reimbursements within 90 days, as required by law, you may become liable for the balance.
Medical Insurance
We are one of a very few dental offices that will help you file medical insurance claims for medically necessary dental related services. Most major medical insurances have Out-of-Network Benefits, and sometimes these benefits can be applied to medically necessary oral surgery, dental trauma, and sleep apnea services that we provide. Qualification will be determined by your medical insurance's medical necessity guidelines and policies. We are In-Network Providers with all TRICARE medical plans and we are MEDICARE Plan B and Durable Medical Equipment (DME) providers. An additional filing fee may apply.
Medicare and Dental Implants
Wondering if you can get dental implants with Medicare? Dr. Henninger is a Medicare-certified provider for dental implants. This means that at our office, Medicare will cover medically necessary oral surgery related to dental implant procedures. Very few dentists in the United States are certified to treat Medicare patients. To learn more click HERE.
Military and Veterans
In addition to traditional dental benefit programs, we are approved providers for the Active Duty Dental Plan (ADDP) for active duty military members and for patients who are eligible to receive dental treatment through the Veteran's Administration (VA). If you qualify, these plans require specific authorization by the appropriate authority before you may be seen in our office for dental treatment or sleep apnea treatment.
Financing
We have many flexible financing options to help you gain access to quality dental treatment. We accept the CareCredit Healthcare Financing Credit Card, Lending Club Financing (formerly Springstone Patient Financing), BBVA Healthcare Solutions, and many other financial solutions. These solutions allow you to make affordable monthly payments towards the dental treatment you need.
Recent Posts
Every day, men and women serve our country with unwavering dedication, defending freedom and safeguarding peace. However, the sacrifices made by our veterans often extend beyond their time on the battlefield. Many veterans face unique challenges upon returning home, including physical and mental health issues. Recognizing the importance of supporting our veterans, we here at…