Oral Appliance Therapy
Vista, CA
For patients who want a comfortable and convenient form of treatment for sleep apnea, oral appliances offer many benefits. While CPAP therapy tends to be more common, it's bulky and noisy and isn't the end-all for sleep apnea or snoring issues.
Explore some of the reasons why you may opt for an oral appliance over a CPAP device.
Your Path to a Quality Sleep Begins with Us
Narval CC™
Herbst Appliance
Somnodent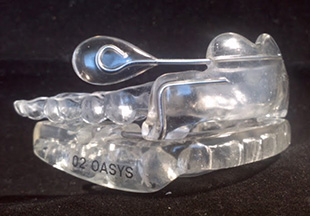 Oasys Oral/Nasal Airway System
With your consultation at West Coast Snore & Sleep Apnea Solutions, we review a number of factors to provide our patients with optimal treatment. Aspects we consider include your medical history, the type of sleep apnea you are suffering from, and your personal preferences and goals with treatment.
To begin your path to a restful sleep you deserve night after night, give us a call to schedule an evaluation at either our Vista or Encinitas location. Together, we'll find the perfect solution that meets your sleep needs for a lifetime of well-being.
Our Approach to Oral Appliances
With oral appliances, patients will experience a whole new level of comfort. They're an ideal and affordable treatment for patients with Obstructive Sleep Apnea (OSA). At our practice, we completely customize oral appliances to fit the specific dimensions of your mouth. We feature top brands such as Narval, Herbst, Somnodent, and Oasys.
Why Choose an Oral Appliance?
Oral appliances are a discreet, quiet, and comfortable way to keep your airway open and treat sleep apnea. Resembling a dental retainer, an oral appliance can easily be used without causing a disturbance to those around you. The tactful nature of an oral appliance makes it more convenient than CPAP therapy, which is a major reason why many patients prefer oral appliances over other treatments.
Oral appliances are extremely quiet and will not disturb the patient or their bed partner while they sleep. Since the appliance simply repositions the tongue or jaw, these comfortable devices contribute to a quality sleep.
Frequently Asked Questions
Does oral appliance therapy work?
Yes! Oral appliance therapy is a quiet, convenient, and comfortable way to tackle snoring and sleep apnea symptoms. It's a custom-fit oral device that works by gently repositioning the tongue or jaw to eliminate any obstructions in the airway. With oral appliance therapy, Dr. Henninger can help improve your sleep, restore your energy, and benefit your overall health.
What is the best oral device for sleep apnea?
Here at West Coast Snore and Sleep Apnea Solutions, we feature top oral appliance brands such as Narval, Herbst, Somnodent, and Oasys. Each oral device is customized to fit your unique bite and support the jaw to help maintain an open upper airway. Once you've completed a proper sleep test, Dr. Henninger will review your diagnosis and help determine the best oral device for you and your sleep disorder.
How much does an oral appliance cost?
The average cost of an oral appliance ranges from $1,800 to $2,000. This includes your custom-made oral device, adjustments, follow-ups, and modifications. However, the cost differs from patient to patient and certain factors, like your medical history, treatment goals, type of sleep disorder and oral device used. For your convenience, Dr. Henninger accepts most medical insurance plans including Medicare.
Is oral appliance therapy covered by insurance?
Most medical insurance companies cover a portion or all of oral appliance therapy, but some may not. We strongly recommend contacting your insurance provider to get an understanding of your coverage. If you'd like, a knowledgeable member of our team can contact them for you to ensure you receive your maximum coverage and benefits. Together, we'll help you find the most effective solution that fits your needs and lifestyle.
Recent Posts

Sara is as big-hearted as you can get. With a calling and talent to serve others, Sara found purpose volunteering at orphanages across the world, especially in India.Unfortunately, Sara also had struggles with mental health. A combination of anxiety, depression, and eating disorders had ravaged her body. As a result, her oral health took a…