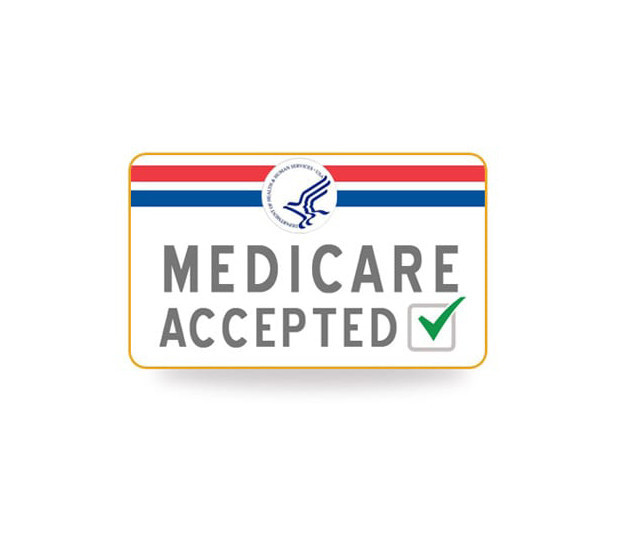 Medicare-Certified Provider
Vista, CA
Wondering if you can get dental implants with Medicare? Dr. Henninger is a Medicare-certified provider for dental implants. This means that at our office, Medicare will cover medically necessary oral surgery related to dental implant procedures. Very few dentists in the United States are certified to treat Medicare patients.
If you have a condition that is deemed a medical necessity during your treatment, Medicare may be able to cover part of your dental implant treatment. You may qualify if you have a condition that could worsen if it's left untreated.
Many patients are able to cover 30% to 50% of their dental implant procedure costs with the help of Medicare. If your current Medicare plan doesn't include dental services, you may be able to switch to a plan that does.
Medically Necessary Conditions
The only way you can be certain if you qualify for Medicare coverage for dental implants is to schedule a consultation with Dr. Henninger at our Vista dental practice. But generally, if you have a condition that requires special treatment during the dental implant procedure, Medicare may provide the costs for it.
Oral disease is known to worsen other diseases, including heart disease, strokes, lung infections, and pneumonia. People with diabetes are also more at risk from oral infections because the bacteria can spread to other parts of your body and cause additional infections. You may also be more at risk if you have COPD, GERD, or other GI issues.
If you have any of these conditions, you may qualify for dental implant Medicare coverage. To find out if you're a candidate for this coverage, schedule a consultation with Dr. Henninger today.
MEDICARE
Dr. Henninger is a certified Medicare provider. We are able to bill medically necessary dental implant treatment to most Medicare and supplemental insurance companies.
Non-billable insurance plans:
Medicare Advantage Plan
Medi-Cal
Medicare with HMO Supplement
Medicare with HMO Secondary
Billable insurance plans:
Medicare (red, white, and blue card)
PPO Medicare Supplement
PPO Medicare Secondary
Recent Posts
Every day, men and women serve our country with unwavering dedication, defending freedom and safeguarding peace. However, the sacrifices made by our veterans often extend beyond their time on the battlefield. Many veterans face unique challenges upon returning home, including physical and mental health issues. Recognizing the importance of supporting our veterans, we here at…