Hope For Veterans
North County Cosmetic and Implant Dentistry is proud to sponsor North County Veterans Stand Down.
Committed to Changing Lives
As veterans and families of veterans ourselves at North County Cosmetic and Implant Dentistry, we are so grateful for the sacrifices that veterans have made in the service of our country. So when we learned about the North County Veterans Stand Down, we couldn't wait to get on board.
Stand Down is a military term that indicates when a unit moves out of a combat area and back to base camp to rest and recuperate. The North County Stand Down aims to do the same thing--offer rest and rehabilitation to veterans across the North County area at a special 4 day event held at the Green Oak Ranch in Vista, CA every October.
While there, veterans in need can enjoy food and shelter, hot showers, clothing, counseling, and a host of other services like medical, dental, legal, and even grooming and veterinary care for their pets, all completely free.
It's a special retreat where Vets can get the physical, mental, and emotional support they need and deserve.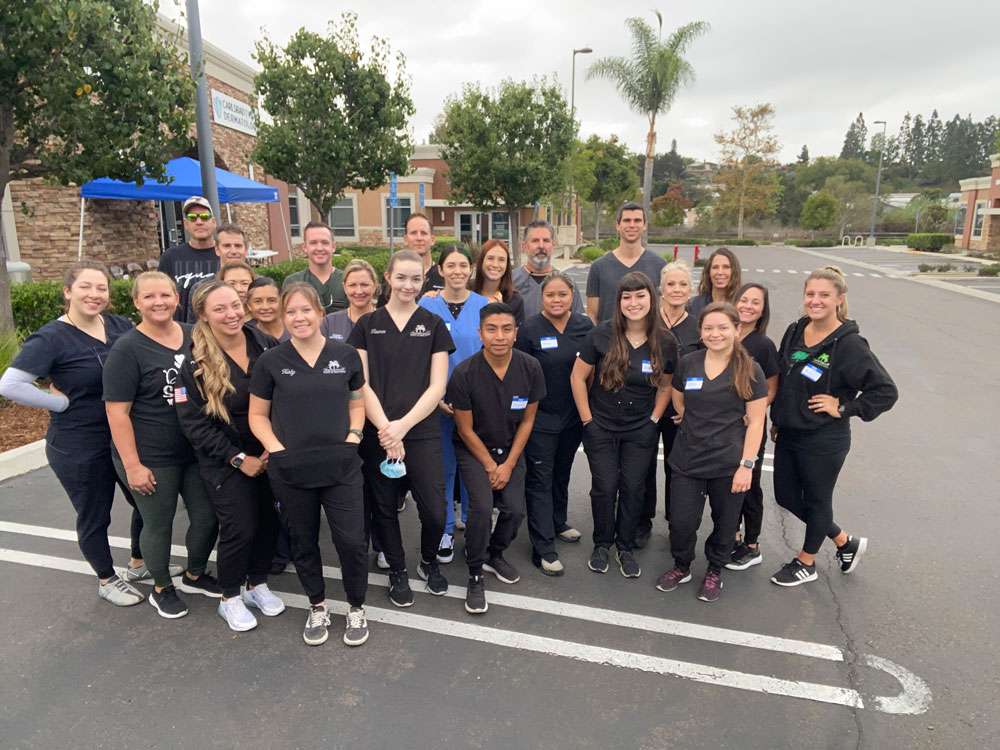 Free Dental Care For Veterans In Need
As part of the North County Stand Down, the team at NCCID donates an entire day of work to participating veterans. Participants in the Stand Down simply sign up for an appointment while at Green Oak Ranch, and receive free transportation from the ranch straight to our nearby office.
Whether vets need a simple cleaning or more complex treatment, Dr. Henninger and the NCCID team work to meet their needs so they can return to their lives out of pain and are able to do everything from eat their favorite foods to feel more confident while applying for jobs.
We're Vets Ourselves
After graduating from dental school, Dr. Henninger completed a one-year residency at Naval Hospital Camp Pendleton, and then served as the only dentist on the USS Boxer in the U.S. Navy, where he deployed in support of Operation Enduring Freedom in 2009.
Frequently Asked Questions
Who qualifies for the North County Veterans Stand Down?
The Stand Down provides services for any veterans in need, homeless or otherwise. While it is an easier event to attend for veterans local to northern San Diego County, all veterans from any location are welcome.
When is the North County Veterans Stand Down?
The Stand Down is held every year in October at the Green Oaks Ranch in Vista, CA.
How do veterans sign up for the Stand Down?
You can register at https://ncstanddown.org/ in the months leading up to the event. If registration is not open on the website, you can also call 866-535-2038 or email info@ncvsd.org.
Do you offer free care for veterans year-round?
We donate our time and materials only during the Stand Down event.
Here are some resources for year-round support:
Can we volunteer at this year's Stand Down?
Absolutely! The event is always looking for volunteers. You can learn more here and email the organization at info@ncvsd.org
Recent Posts

Sara is as big-hearted as you can get. With a calling and talent to serve others, Sara found purpose volunteering at orphanages across the world, especially in India.Unfortunately, Sara also had struggles with mental health. A combination of anxiety, depression, and eating disorders had ravaged her body. As a result, her oral health took a…