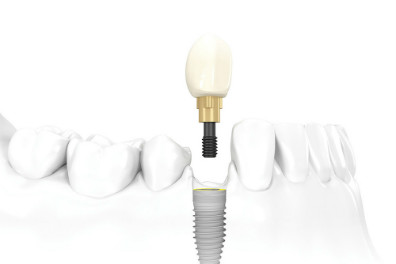 Single Tooth Replacement
Many people ask us: What is a dental implant? The best way to describe a single dental implant is to compare it to a real tooth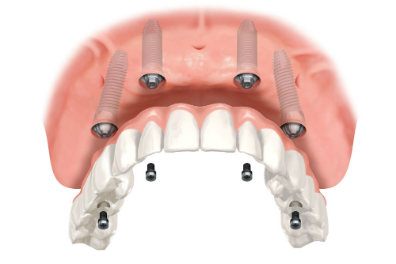 Teeth in a Day
We are pleased to offer Teeth in a Day, a new, permanent solution for people with multiple missing teeth in Carlsbad, CA. Now, our patients can receive a full set of teeth in as little as one day.
No More Dentures! with San Diego dentist Christopher Henninger, DMD
THE GOOD NEWS IS THAT WE ARE ABLE TO HELP JUST ABOUT ALL OF OUR PATIENTS WHO ARE MISSING TEETH
Whether it is just one tooth or an entire arch of teeth, at North County Cosmetic and Implant Dentistry we offer several solutions for patients with missing teeth, including: Single Implants, Snap In Dentures and Teeth in a Day, where a patient can receive a full set of teeth in as little as one day.
Upgrade your smile with Dental Implants
Dental implants are the ideal solution for replacing missing or broken teeth. Beyond revitalizing your smile, implants are permanent and promote healthy jawbone growth. Whether you're missing one tooth, multiple teeth, or an entire arch of teeth, our team at North County Cosmetic and Implant Dentistry features dental implant options that will restore your livelihood and renew your smile.
What are Dental Implants
Dental implants are a permanent replacement option for lost, extracted, or broken teeth. They are custom-fit to blend with the rest of your natural teeth, restoring functionality and esthetics to your smile. The process begins with Dr. Henninger placing the dental implant into the jawbone. From there, your body will naturally form a secure bond with the implant through a process called osseointegration. After a brief healing period, your smile will be ready to show off to the world.
The benefits of Dental Implants
We've already talked about how dental implants can renew the esthetics of your smile, but they offer an array of other benefits as well. The advantages of dental implants include:
Improved speech
Improved comfort
Easier eating
Improved self-esteem
Improved oral health
Durability
Convenience
Chris shares experience getting dental implants
Get the Smile that you Deserve
Dental implants are the gold standard treatment for restoring missing or broken teeth. For more information about the process, please give us a call at 760-940-2273. Alternatively, you can fill out a form on the contact page, and we'll get back to you as soon as possible.
Frequently Asked Questions
What is the lifespan of a Dental Implant?
While the life-span of a dental implant is greater than any other tooth-replacement option, its longevity mostly depends on how you care for it. Dental implants are immune to disease and infection, but that doesn't apply to the rest of your smile. If you don't properly care for your teeth, you may develop gum disease or other conditions that can cause the implant to fail. However, if you practice strong oral hygiene habits, your dental implant could last for more than 25 years.
What is the cost of a Dental Implant?
No two dental implant treatments are exactly alike, so the number of appointments, procedures, and costs of dental implants will vary from patient to patient. With that said, the cost of dental implants is favorable when compared to other tooth-replacement options. This is because implants can last significantly longer — even a lifetime — with proper care.
What is the best way to care for a Dental Implant after surgery?
The easiest way to avoid infection and dental implant failure is to keep your mouth clean. This means cleaning your smile thoroughly after each meal, beginning the day after your procedure. At North County Cosmetic and Implant Dentistry, we recommend using a soft-bristled toothbrush and toothpaste that contains non-abrasive ingredients to ensure that you don't damage the implant or irritate the structures that support it.
Recent Posts
Every day, men and women serve our country with unwavering dedication, defending freedom and safeguarding peace. However, the sacrifices made by our veterans often extend beyond their time on the battlefield. Many veterans face unique challenges upon returning home, including physical and mental health issues. Recognizing the importance of supporting our veterans, we here at…